Welcome AMBER! We are so happy to have you here this week, and that you have agreed to share a bit about yourself.
AMBER: Thanks Kathy! It's great to be here. I've been very excited about this interview, and I'm a big fan of your blog and your writing. ;)
Q: First of all, apple pie and ice cream, apple slices and caramel, or apple juice in your juicer J note the sliding scale from decadence to health?
A: I'll take the ice cream and the fresh apple juice. :) I try to keep everything in balance. My favorite thing from my juicer is celery and carrot juice.
Q: When did you first know you were a writer?
A: I have always had an active imagination and even as a young girl I would make up stories and play them out in my make believe. I started writing those stories down when I was about fourteen. But the real calling came about the time I graduated from High School. I had been doing a lot of study on how media and books affect people's attitudes and worldview. It was astonishing how the subtle messages that have been worked into entertainment over the years has completely transformed our nation and our morals. I realized that someone needed to write stories that upheld morals, faith and godliness. The Lord then led me to Habakkuk 2:2 which says " And the Lord answered me, and said, Write the vision, and make it plain upon tables, that he may run that readeth it." That became my commission.
Q: How does your faith play into your writing?
A: My faith plays very strongly into my writing. All of my stories come from a distinctly Christian world view with a high moral standard. However I never want my reader to feel like they're being hit over the head with a Bible. :) That hurts.
Q: If you could sit down and interview any person, fictitious or real from any time, who would that be and what is the first question you would ask?
A: Wow, that's a hard question!
I would want to interview Jesus. But everything I think about asking Him, He's already left an answer for. I thought about asking Him to explain how much God loves us, but the whole Bible is filled with examples, symbols and types. He would just say to me "For God so loved the world that He gave His only begotten son." I thought about asking Him when the rapture would come, but He would answer "No man knows the day." So I would probably ask Him why I wasn't born during the time when He walked the earth. That's something I've wondered about a lot.
Q: Who have been your mentors, and how did they help you most?
A: The ladies over at Seekerville have been a great inspiration to me and have taught me so much by their blog posts etc. I have also learned a lot from Giovanni, my rep over at Helping Hands Press. He's taught me a lot about marketing and staying in touch with readers.
Q: What do you hope your readers will take away from your debut? And can you hint at any works to come?
A: I want my readers to come to the same realization that Aaliyah does, that bitterness is a terrible disease that is far worse than leprosy. And Jesus Christ is the only one that can heal us of that disease.
Next, I'm working on a Christmas story I'm calling The Swaddling Clothes.
Many stories have been told down through the ages about Mary, Joseph and the birth of the Messiah. Stories of shepherds and sheep, kings, angels, and stables. But there is one story that has never been told. One story that has remained hidden in the fabric of time. The story of The Swaddling Clothes.
Q: Do you have a question you would like our blog readers to answer?
A: Have you ever struggled with bitterness? What helped you to overcome it?
Amber is offering a digital edition of The Healer's Touch to one lucky commenter this week. Leave an answer in the comments to her question (in green, above) to enter to win. If you share this post on facebook, twitter, Google+, and if you like or follow any of Amber's links below, let me know for extra entries!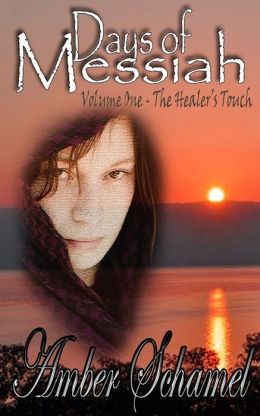 The Healer's Touch Synopsis:
Aaliyah's last chance at winning her husband's love is destroyed when she is banished from her home as an 'unclean' sinner, exiled to the leper colony. When a chance at being cured comes in the form of a rumor, she must risk her life to appear in public, or die a leper.
Amber Schamel was born in Littleton, CO and has traveled extensively throughout the United States, Europe, and the Holy Land. She was raised in a family of 11 children, homeschooled through education and currently works with their 10 family businesses as bookkeeper and marketing director. She volunteers half of the summer at a non-profit Christian Family Bootcamp in rural MO helping and ministering to young girls and Christian families. Amber loves history, culture, reading and music. She has a musical ministry and travels throughout the United States ministering thru song. During her spare time she enjoys crafting Christ-honoring stories that will inspire and encourage her readers. Amber currently lives with her family outside of Colorado Springs, CO.
Amber, thank you for being with us this week. I wish you every blessing as you write for His glory!
Thanks so much for having me on your blog this week, Kathy! I've enjoyed hanging out with all of you. I'd love it if ya'll would stop by and say hello. Here's where you can find me.